Meet Alain Fabius
My name is Alain Fabius and I started in the farrier trade thirty years ago.
My love of horses started when I first started working with them at the age of sixteen.  I became a barn manager and trainer.  When I was eighteen I went to an excellent school, the Oklahoma Horseshoeing School. After graduating, I spent some time out West with different ranchers.
When I returned from out West, I apprenticed with several experienced farriers for two years, who helped me hone my new skills. I then started my own business in 1984, serving customers primarily in Westchester and Connecticut.
In my thirty plus years of being a farrier I have shod many different breeds, and serviced the various disciplines of riding represented in the tri-state area.  I have developed many long term relationships with owners, veterinarians, and horses.  By partnering closely with veterinarians and owners, I have come up with many creative solutions for complicated cases in these majestic animals. Horses can't speak for themselves, so I have learned to study them in various situations and discern the first indications of discomfort and lameness. I have observed over the years that horses are always communicating to us; we just have to open our eyes.
My  Shoeing Philosophy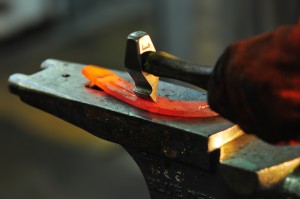 My shoeing philosophy is to address the need of the horse in their unique situation.  I don't automatically shoe the horse according to its breed or discipline.  I treat the horse for its particular needs, comfort, and of course — its performance!
There are many methods and theories on how to shoe a horse, so how does one decide what method or theory to implement?  Over the years, I have studied and applied many of these principles of shoeing; from traditional methods to new methods that were controversial when first presented. My study and application over the years have taught me what methods and theories are viable for the horses in my care. For more information on my footcare journey click on: Equine Podiatry and Jeet Kun Do
I feel both privileged and blessed that I practice this vocation every day, and I look forward to getting to know you, and your horse(s). Please feel free to contact me so we can talk about your horse!
Cheers,
Alain Fabius